Ant Control & Extermination Information
One of the most common insects in human environments, there are more than 450 ant species found in the U.S. Only about 25 species commonly infest homes and of those, only 5 are of particular concern here in mid-Missouri. Social insects, ants typically live in underground colonies made up of workers, males and a queen. You can find these colonies in soil, underneath concrete slabs, rocks or boards, next to foundations and even in walls. Ants will eat practically any kind of food, but are especially attracted to sweets. Ant identification is relatively simple due to their three distinct body regions: head, thorax and abdomen, as well as antennae. Despite similar construction, ants vary in overall appearance. Small or large ants and brown or black ants are common nicknames for different species. Most of the calls for a pest control professional are for ant infestations, and they can sometimes prove very difficult to eradicate.
Why are ants a problem?
Although they may be small in size, ants can pose serious threats by contaminating food and damaging property. Living and working in colonies that can grow to hundreds of thousands of individuals, an ant infestation can quickly spread if left unchecked. Ants impact human health by stinging or through contamination of food. Contamination of food by ants occurs when they visit unsanitary areas in the home and carry germs on their bodies to clean areas where food is stored and/or prepared. Although any ant could potentially carry germs on its body, the odorous house ant and pharaoh ant are the most likely carriers of contaminants in Missouri because of their abundance and behavior. Stinging ants in Missouri include acrobat ants and the pavement ant. Ants can also cause economic damage to wooden structures by hollowing out dead and decaying wood to build a nest or using existing voids in the building as a nest site. They do not eat the wood, but they excavate tunnels in the wood to lay eggs and raise larvae and pupae. In some situations, these excavations can be extensive. Wood nests often have some kind of visible sawdust and debris caused from the ants associated with them.
Common Missouri pest ants
Pest ant species have unique behaviors that are useful in understanding and preventing their activities in human environments. The following is a brief description of the species you are likely to encounter in Missouri: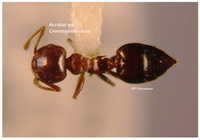 Acrobat Ant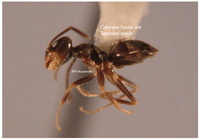 Odorous House Ant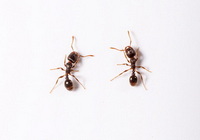 Pavement Ant
Pharaoh Ant
Odorous House Ant
The odorous house ant is the most common home-infesting ant species in Missouri. It is 2 to 3 mm long and dark brown to black in color. Its most identifiable feature is that it gives off a fruity-coconut smell when crushed between the fingers. Odorous house ants have multiple queens and nest in void spaces both indoors and outdoors. They feed on honeydew and plant nectar outdoors, but when these foods wash away during periods of rain, they invade homes in large numbers to find food. They also scavenge for other kinds of foods. They are attracted primarily to sweet foods indoors during rainy periods during spring and fall.
The odorous house ant establishes colonies with newly mated queens or by budding from existing colonies. Nests in the soil are shallow and often located beneath some object like a board or stone. They especially like stacks of materials as nesting sites. They also nest under loose bark on trees or siding on homes. Most colonies that infest homes are located outdoors. Indoor nests are often associated with moisture within wall voids near pipes, heaters, bathtraps, toilets, etc. They are best managed using sweet baits.
Pharaoh Ant
Pharaoh ants are common structural pests. They are only about 1 to 2 mm long and are light tan in color. Their small size and color are their most identifiable features. Pharaoh ants have large colonies with multiple queens that nest in void spaces indoors. No swarming occurs in this species, and almost any tiny space is suitable for a queen to establish following budding. They are common in wall voids, behind baseboards, in electrical outlets and other small void spaces. They feed on all kinds of foods including fats, proteins and sweets that they obtain by scavenging both inside and outside.
The pharaoh ant is particularly difficult to control. It is found nesting in homes and institutional buildings such as hospital and schools. They are often located near moisture. They have been reported feeding on human wounds in hospitals and care centers. Conventional spraying of worker trails causes a single colony to split into several colonies that relocate to new void spaces. This magnifies the problem rather than eliminating it. Baiting is the only effective way of managing pharaoh ant colonies.
Pavement Ant
The pavement ant is a dark brown to black ant with light antennae and legs that range from 2-1/2 to 3 mm in length. Their most identifiable feature is the parallel furrows and ridges on the head and thorax. They have a single queen and they nest in soil in the open or under stones and pavement. Their name comes from the habit of nesting beside and under sidewalks, driveways and foundations. They tend subterranean insects that feed on roots for their honeydew.
Most infestations consist of alates (winged ants) emerging indoors. They emerge in the spring from under baseboards, expansion joints, heat registers or from false ceilings. This may continue for weeks. You can removed alates by handpicking, vacuuming or using a fly swatter. Eliminate colonies by locating the outdoor soil nest and drenching it with insecticide.
Larger Yellow Ant
The larger yellow ant is reddish-yellow and ranges in size from 4 to 4-1/2 mm in length. One identifiable feature of this ant is the distinct lemon-like odor that workers emit when alarmed or crushed. This odor has prompted other names for this ant, such as the citronella or perfumed yellow ant. The colonies have a single queen. The ants prefer to nest in soil along the foundation of structures. Larger yellow ants feed almost exclusively on honeydew produced by subterranean insects feeding on roots.
This ant becomes a nuisance when alates swarm indoors or when workers dump soil from cracks in the floor or basement wall. Many often mistake them for termites in these situations. Colonies are best managed by drenching their soil nests outdoors next to the foundation.
Acrobat Ant
Acrobat ants are occasional structural pests. This group of ants varies in color from light brown to reddish brown to black and ranges in size from 2-1/2 to 3 mm long. Their most identifiable feature is a heart-shaped abdomen that comes to a point at the tip. They have a single queen in the colony and nest in wood. Many species build carton sheds to cover certain homopterous insects, then they feed on the honeydew these insects produce. Indoors they are attracted to both sweet and greasy foods.
Acrobat ants establish colonies in dead wood in a variety of locations, including partially decayed logs, stumps, dead branches of trees or woodwork in homes. The ants commonly infest door and window frames previously damaged by moisture. They also like to infest foam panel insulation. They are best managed by injecting liquid insecticide into their wooden nest galleries.
How to prevent ant infestations
Although ant control and extermination can be quite complex and is best left to professionals, there are things you can do to prevent an infestation from ever taking place.
Seal cracks and crevices around the home, especially in places where utilities enter.
Dispose of garbage regularly and use trash cans with a sealed lid.
Store sweets such as honey and sugar in closed containers.
Eliminate excess moisture by repairing leaking pipes and using a dehumidifier as needed.
Seal cracks and crevices around the home, especially in places where utilities enter.
Remove old landscape materials, debris and excess vegetation from the property to reduce nesting sites for ants.
Carpenter Ants
Carpenter ants are also a concern in Missouri, but their behavior and biology is very different from house-infesting ants and as wood-destroying insects merit their own separate page also found on this website.

Houseman, Richard M. "The Benefits of Composting." University of Missouri Extension, extension.missouri.edu/g7392